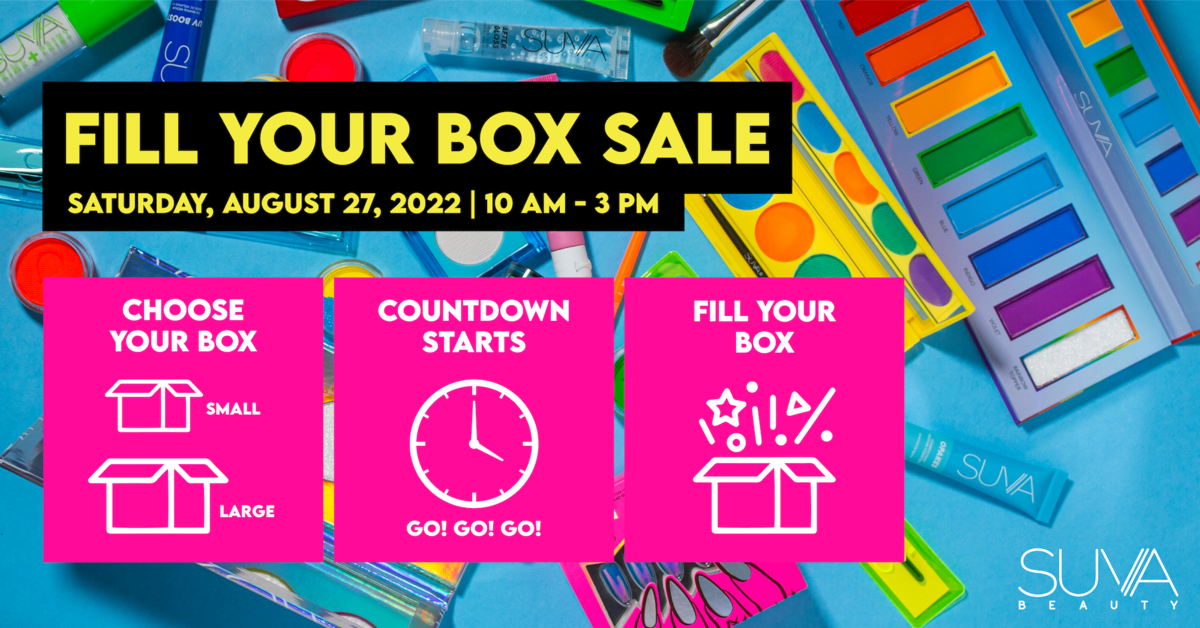 FINALLY!
SUVA Beauty's warehouse sale returns after a two-year hiatus accompanied with a new interactive art experience!
SUVA Beauty will open up its doors on August 27, 2022 with a gamified "FILL YOUR BOX" sale and interactive art experience for in-person customers.
The reimagined warehouse sale will give customers the opportunity to purchase a box (either SMALL or LARGE), and "fill their box'" with as many products as possible within an allotted time period. Customers may potentially walk away with $500-$1000 worth of SUVA Beauty merchandise.
"I'm particularly excited for our sale this year because of the added art experience," says SUVA Beauty CEO, Shaina Azad. "Art is my first passion, and I can't wait for our local community to come out, stock up on their SUVA products, and interact with the art installations our team has worked on. You'll definitely walk away with some epic shots and memories."
The sale and art experience will be located at SUVA BEAUTY Headquarters:
Location: #140 - 19288 22 Avenue, Surrey, BC
Time: 10 AM - 3 PM
Quantities are limited, so come early to ensure you get everything you want!
🚨 See the details below🚨
We're so excited for you to join us at our FILL YOUR BOX event! Please see the details of the sale below:
📦 BOX SIZES + PRICES:
The following box sizes will be available to purchase at the FILL YOUR BOX event:
Small Box - $50.00 CAD
Large Box = $100.00 CAD
- The Small Box has been estimated to fit over $400.00 CAD worth of product!
- The Large Box has been estimated to fit over $800.00 CAD worth of product!
Customers will be permitted to purchase ONE box at a time (choose your box wisely!). An additional box may be purchased once the customer enters the queue again.
⏰ FILL YOUR BOX: TIMED EXPERIENCE:
- Customers will be shopping in small groups.
- Customers will have 3 MINUTES to fill their box.
- The box must fully close at the end of the allotted time. Customers will be asked to remove items if the box does not close.
🌈 AVAILABLE PRODUCTS:
ALL of the SUVA Beauty products will be available at the event. This includes new inventory, never-seen-before items, last chance items (get them before they are gone forever!) as well as odds and ends.
PLEASE NOTE: odds and ends items include: packaging misprints, damaged outer boxes/components, incorrect formula colours, discontinued items, etc.
Limited quantities available. All items are final sale. Limited 4 items per SKU. Wholesale orders will not be permitted. Cash and credit will be accepted.
📍 EVENT ADDRESS:
Unit 140 - 19288 22 Ave, Surrey, BC
Free Parking is available!
RSVP HERE!